JRV Painting Co, LLC Services: Exterior Painting
Exterior painting
Exterior staining:
• Solid
• Semi solid
• Semi transparent
• Clear
Stucco painting
Concrete painting
Doors
Decks
Fences
Pressure washing:
• Driveways
• Patios
• Sidewalks
• Concrete Walls
Minor siding Replacement
Minor wood repair
We use only the highest quality paint products. Color charts and fan decks are available to help you make your choice of paint color and we offer color matching to meet your needs. When choosing a color for your exterior painting it is sometimes helpful to drive around your neighborhood and see what others have done with colors. We can provide you with color samples and apply them to selected areas of your home. We keep the job site neat and clean while the work is in process.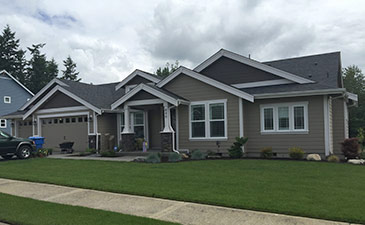 Exterior painting: Steps to a finish that will last
We start our exterior painting jobs with pressure washing. We treat mildew with a mild house cleaning solution. The house is then rinsed to remove dirt, etc. Some paint chips might come off though we don't try to remove paint with pressure washing as it may damage the siding. We scrape and sand later if necessary.
After the home has had sufficient time to dry (3 days to a week), we mask windows, doors, lights, brick and cover shrubs, plants, trees, landscaping, driveways, etc.
We caulk all windows, doors, inside corners, cracks and any other places where needed with high quality caulkings. We will fill holes and do minor siding or wood replacement or repair.
All bare wood and/or weathered sides will be primed with top quality primers.
The top coat is sprayed and backrolled where necessary and depending on substrate followed by another spray coat after the first coat is dry (usually the same day).
All trim gets two coats.
We will paint the exterior side of entry doors with top quality semi gloss or low sheen enamel.
After the painting is complete we will thoroughly clean up and remove paint debris.